Thank you for your interest in the Urology Residency Training Program at The Warren Alpert Medical School at Brown University.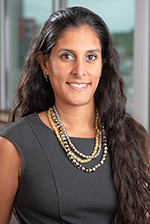 As a resident, you will benefit from our integrated five-year training program, with 6 months in general surgery and specialties, followed by four years in urology. Based at Rhode Island Hospital, the training in urology also includes rotations at several of The Warren Alpert Medical School Affiliated hospitals, including Hasbro Children's Hospital (the pediatric division of Rhode Island Hospital), The Miriam Hospital, Women & Infants Hospital, and the Providence Veterans Administration Medical Center. As such, you will be given opportunities for rotations in inpatient and outpatient pediatric and adult urology, as well as an outpatient rotation.
We offer an excellent urology program which is exceptionally well-balanced in clinical experience and academic training.  Upon completion of our program, you will be prepared to either pursue subspecialty fellowship training or enter into private practice. In recent years, our graduating residents have been equally divided between the two. 
I invite you to learn more about our outstanding Faculty, Residency Program, Residents, and the unique training environment at the Brown Urology Residency Program. 
Sincerely yours, 
Simone Thavaseelan, MD
Residency Program Director
Chief, Urology Section, Providence VA