Rhode Island Hospital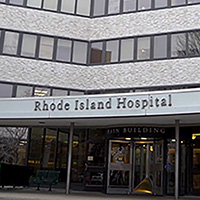 Rhode Island Hospital is a private, non-profit hospital located in Providence, Rhode Island.
It is a 719-bed acute care teaching hospital and was founded in 1863. Local philanthropist and trustee, Henry J. Steere was instrumental in founding and funding the early hospital. The hospital was the first in the region and third in the nation to have an EKG machine in 1915.
The hospital is the largest of the state's general acute care hospitals, and provides comprehensive health services for both adults and children. It is a teaching hospital affiliated with The Warren Alpert Medical School.
The Rhode Island Hospital provides comprehensive diagnostic and therapeutic services to inpatients and outpatients, with particular expertise in cardiology, oncology, neurosciences and orthopedics, as well as pediatrics at its Hasbro Children's Hospital. It is designated as the Level I Trauma Center for southeastern New England and provides expert staff and equipment in emergency situations 24 hours a day. 
The Miriam Hospital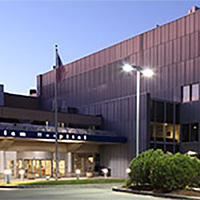 The Miriam Hospital is a private 247-bed, not-for-profit, acute care general hospital founded by Rhode Island's Jewish community in 1926. The Miriam provides a broad range of primary, secondary and tertiary medical and surgical services to adolescents and adults in 33 medical and surgical specialties and sub-specialties. In addition, The Miriam Hospital provides a full range of cardiac, pathological and radiology services as well as psychiatric consultation/liaison services. The Miriam is affiliated with and serves as a major teaching affiliate of Brown Medical School.
The Miriam Hospital has earned the distinctive Magnet designation for the third time. Magnet is the most esteemed award an organization can receive for nursing care as established by the American Nurses Credentialing Center (ANCC), a division of the American Nurses Association. The Miriam Hospital is the first hospital in Rhode Island to receive designation from the Joint Commission on Accreditation of Healthcare Organizations (JCAHO) as a Primary Stroke Center. The designation signifies that the hospital's stroke program meets rigorous national standards and performance measurements in caring for stroke patients and offering state-of-the-art treatments.
Hasbro Children's Hospital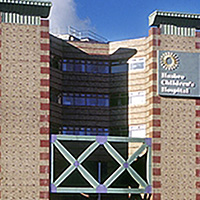 Hasbro Children's Hospital in Providence, Rhode Island, is the pediatric division of Rhode Island Hospital, the largest teaching hospital of The Warren Alpert Medical School of Brown University. A private, not-for-profit hospital, Hasbro Children's Hospital has been named a top children's hospital by Child magazine, ranking ninth in orthopedics.
The 87-bed hospital offers a wide range of pediatric services and programs in all medical and surgical subspecialties. Hasbro also includes specialized intensive care unit, oncology and cardiac programs, as well as emergency and surgical units designated for child.
Hasbro Children's Hospital is nationally recognized for its Child Protection Program and Draw-A-Breath asthma and allergy initiative. It is also the home of the Injury Prevention Center, which aims to reduce accidental injuries in children. The hospital has pioneered numerous procedures and is at the forefront of fetal surgery, orthopedics and pediatric neurosurgery. 
Providence VA Medical Center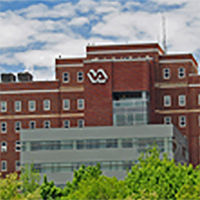 The Providence VA Medical Center is dedicated to providing high quality comprehensive outpatient and inpatient healthcare to veterans residing in Rhode Island and southeastern Massachusetts. Each veteran who comes to the Medical Center for care is assured personalized care by a team of health care providers. A Primary Care Provider coordinates each patient's medical care, patient education needs and referrals to any of the medical centers 32 subspecialty clinics.
The Medical Center's Ambulatory Care Program is supported by a general medical and surgical inpatient facility (currently operating 73 beds) that delivers a broad range of services in medicine, surgery, and behavioral sciences. Veterans can also avail themselves of the primary care services provided at the VA Primary Care Centers in New Bedford, MA, Hyannis, MA, Nantucket, MA, Martha's Vineyard, MA and in Middletown, RI.
The VA Medical Center has approximately 150 board certified physicians and a total of 740 full-time employees who complete the healthcare delivery team of professional, technical, administrative and support personnel. Nationally and internationally recognized clinical research activities enhance patient care in: oncology, heart and lung diseases, hypertension and psychological disorders. 
Women & Infants Hospital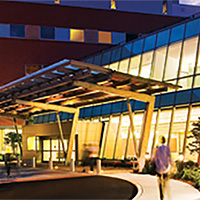 Women & Infants Hospital of Rhode Island, a Care New England hospital, is one of the nation's leading specialty hospitals for women and newborns. The primary teaching affiliate of The Warren Alpert Medical School of Brown University for obstetrics, gynecology and newborn pediatrics, Women & Infants is the tenth largest obstetrical service in the country with more than 9,700 deliveries per year. In 2003, Brown University and Women & Infants were named a National Center of Excellence in Women's Health by the U.S. Department of Health and Human Services.
Women & Infants Hospital is the primary teaching affiliate in obstetrics, gynecology and newborn pediatrics for the Brown Medical School. From infertility and birthing services to women's oncology services, from research studies to support groups and seminars, Women & Infants is the premier health resource in the region for newborn children and women of all ages. Named one of the top 50 gynecologic hospitals in the nation by U.S. News and World Report in 2000, 2001 and 2004, Women & Infants has the tenth largest obstetrical service in the country with approximately 9,700 deliveries a year and serves as the regional perinatal center for southeastern New England.
It also offers a wide range of inpatient and outpatient programs for women throughout their lives, including women's digestive disorders, behavioral health, postpartum anxiety and depression, breast health, women's cancer care and treatment for urinary incontinence and pelvic support problems.
Clinics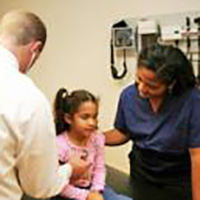 Residents participate in clinic rotations at Rhode Island Hospital, Hasbro Children's Hospital and the VA Medical Center. During this time, residents will see a variety of urologic problems. An attending urologist is available on site for consultation for all patients. While rotating through the Rhode Island Hospital Adult Urology Outpatient Clinic twice a week, the resident will see an average of 30 patients per session. Facilities include a cystoscopy and minor surgery suite. Pediatric Urology has its own clinic, which meets one half-day per week. In addition, residents will rotate through a myelomeningocele clinic, which meets for one half-day per month.
The VA Medical Center has two afternoon urology clinics per week. During that time, the residents will see 30 to 40 patients, with direct staff supervision. The VA also has separate cystoscopy clinic as well as prostate ultrasound and biopsy clinic. In addition to these clinics, outpatient experiences are available in the private offices of the urology faculty.